Gerard Chimbganda MD of GoodPeople has been recognised as Business All-Star Recruitment Industry Professional of The Year 2023 by the All-Ireland Business Foundation.
Minana International, operating as GoodPeople, employs individuals within the healthcare sector in Ireland. Their healthcare services involve placing their staff in HSE community units and hospitals for extended periods. Since their inception in 2017 as a recruitment agency, they have experienced significant growth and have transformed into a provider of comprehensive staffing solutions for their clients.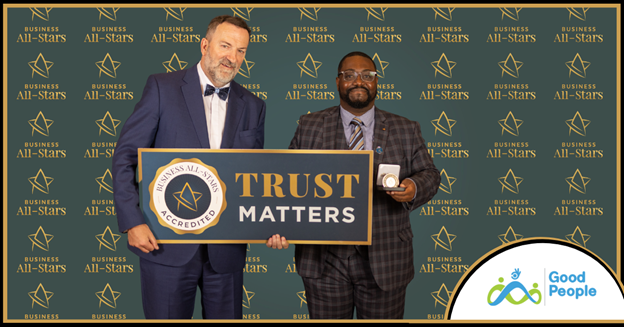 Mr. Kieran Ring, Deputy Chair of the Adjudication Board at AIBF pictured with Gerard Chimbganda, MD of GoodPeople after being awarded his Business All-Star Recruitment Industry Professional Of The Year 2023 Accreditation.
GoodPeople Consulting Services operates as a premium one-stop shop, offering top-notch, independent assessment, and consultancy services across a range of sectors. This includes areas such as child and family services, childcare, and family law proceedings. The primary mission and function of GoodPeople Healthcare are dedicated to enhancing the quality of life for individuals with diverse health and care support requirements, with an additional focus on supporting their friends, relatives, families, and caregivers.
This acknowledgment, designating Gerard as the Business All-Star Recruitment Industry Professional of The Year 2023, is a thoroughly well-earned recognition that underlines Gerard's remarkable contributions to the field of Recruitment.
Reacting to the news of his achievement, Gerard Chimbganda said:
I'm so honoured to receive this prestigious accreditation from AIBF. While this is a personal honour, this achievement is a testament to the hard work and dedication to excellence put in by all of the team at GoodPeople. We are committed to maintaining the highest standards of quality and service as we continue to innovate and provide the best solutions for our valued customers. I am delighted to be part of the AIBF TRIBE."
Announcing the news of Gerard's achievement, Deputy Chair of AIBF's Adjudication Board, Kieran Ring, said:
This certificate verifies that Gerard Chimbganda of GoodPeople has achieved All-Star Recruitment Industry Professional of The Year 2023 accreditation. Gerard is an experienced director of operations, strategy, and innovation specialist, with a demonstrated history of working in retail, IT startup, web and cloud industry. Skilled in strategic innovation management, negotiation, business planning, operations management, coaching, and sales. Strong professional with a master's in strategic innovation management, bachelor's degree in economics, higher diploma in science in computing from the Dublin Business School. GoodPeople employs people in the healthcare sector in Ireland. GoodPeople's healthcare services has seen their staff work for HSE community units and hospitals on a long-term basis. The company has grown its business since 2017 when it started off as a recruitment agency and has evolved to offer staffing solutions to their clients.
Managing Director of the All-Ireland Business Foundation, Kapil Khanna, said: The accreditation, which is now held by over 650 firms, is needed by the thousands of small and medium businesses which operate to their own standards but have nothing to measure them by.
He said: "We evaluate a company's background, trustworthiness and performance, and we speak to customers, employees and vendors. We also anonymously approach the company as a customer and report back on the experience. The business goes through at least two interviews and is scored on every part of the process against set metrics."
The All-Ireland Business Foundation (AIBF) is an autonomous national accreditation body tasked with enterprise development and the promotion of Best-in-Class in Irish business.
The Foundation actively engages and supports its network through peer dialogue, collaboration, mentoring and enterprise development activities. Companies are qualified for accreditation by completing an enterprise audit and are identified by their use of the AIBF's Business All-Star Marque.
AIBF PRESS CONTACT GOODPEOPLE CONTACT
Cóilín Duffy Gerard Chimbganda
Marketing & Communications Officer | AIBF MD
media@aibf.ie 0874590738